Posted on 12/14/20 12:00 PM
There are few traits more important than consistency in production runs that deliver quality products across the food, pharmaceutical, and chemical industries. And in many cases, a high level of consistency is dependent on processes that reduce the size of particles involved in the product's creation. While impacting particles to make them smaller may seem like a simple process, it's not. Successful particle size reduction is a complex process. Crushers, lump breakers, hammer millers, and fine grinders are selected depending on the application and the desired finished size. Let's take a closer look at two measurement units and explore the differences.
Mesh vs. Micron
What is mesh?
Mesh size, or mesh number, references the size of the screen's opening and is determined by the openings in a linear inch of filter screen material. So a screen with 10 openings along a linear inch of material is considered a 10 mesh screen.
As the mesh number increases, the openings' size decreases. Thus the larger the mesh number, the finer the filtration. Mesh is the largest characteristic dimension (diameter) of particle measurements and is often used in screening or hammermilling applications where larger sizing or separation is desired for the end product.
What is a micron?
On the other end of the spectrum is microns. A micron is an incredibly small unit of measurement, coming in at 0.001 millimeters. Unlike mesh, a higher micron number does indicate a larger size.
Some examples of particle size reduction equipment used to reach micron size include fine grinders and air classifying mills. Reducing particles to this size helps ensure a fine-grit consistency and appearance.
How to Choose a Screen for Separation Performance
Choosing the right screen is the most critical factor in achieving the best separation performance. Screeners, or sifters, will separate dry, free-flowing materials based on particle size as the material moves across the screen. It's important to know that mesh count and wire diameter characterize screens (in the U.S.), so selecting appropriate values for those parameters is vital.
Choosing the screen opening size will largely depend on the application:
scalping (removing oversized particles from a nearly uniform batch),
fines removal (removing fine particles, or the opposite of scalping),
or grading (using multiple stacked screen decks to separate material into different streams).
Wire diameter should be decided after determining the screener capacity, screen flexibility, and screen durability needed to reduce particles' size in any given application.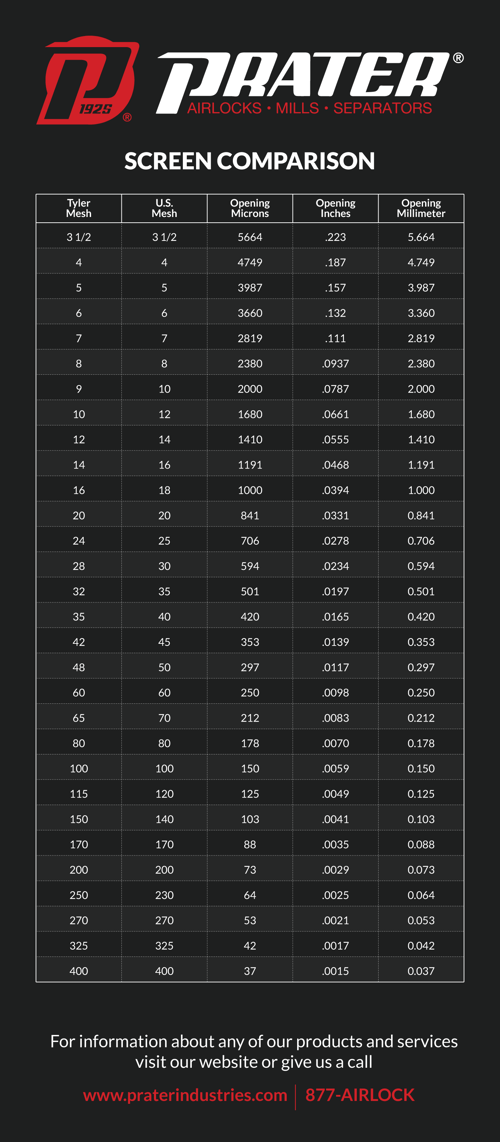 Prater Rotary Sifters offer more throughput capacity per screen area than any conventional screening and separation equipment. Our design is completely enclosed and operates quietly and efficiently with no dust issues, vibrations, or motion. We also offer a patented, elite option named the Rota-Trap®, designed explicitly for heavy-duty pre-scalping by trapping and protecting the sieve cloth from tramp metal, stones, and other unwanted particles. These Rota-Sieve® centrifugal scalpers and sifters are ideal for sizing, sifting, scalping, classifying, and breaking agglomerates.
Scalable Size Reduction Solutions
Prater Industries offers various scalable processing solutions designed to meet particle size reduction needs from mesh to micron size. Companies across industries rely on Prater's particle size reduction equipment to deliver efficiency and consistency with each production run. Check out our recommendation tool or contact us if you're still unsure which machine to use but know your product's desired finished size.