Posted on 10/12/17 11:51 AM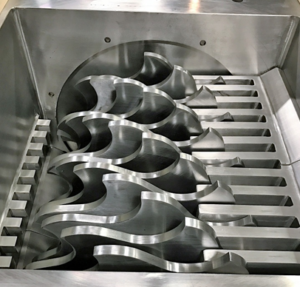 Prater Industries recently announced a new, design enhancement to their line of Lump Breakers that resulted in increased productivity for a bulk-processing regrind operation.
A manufacturer of industrial detergent was looking for a solution to improve the regrind operation of their off-spec product. The production of their detergent involved the compression of powder into large, 7 lb. blocks. As the blocks were manufactured, some would chip or deform, thus requiring them to be pulled off the line and re-processed.
Their existing grinder often failed under the stress of handling the blocks, which had to be manually cut in half to prevent the grinder from overloading. The process of cutting the blocks was time-consuming and a hazard to workers. Additionally, the grinder breakdowns made the process unreliable.
To solve the customer's problem, Prater recommended a two-step process. First, they updated their single-shaft lump breaker with some key features in order to accommodate crushing the large blocks. Key upgrades included; a robust set of cutter style blades that provided a nibbling action against the large incoming material, an oversized shaft to resist deflection forces during operation, robust end plates with outboard mounted bearings, and an oversized gearbox and motor to handle the surges inherent to feeding the blocks. Next, they utilized a Hammermill, a primary product for the company for over 90 years, to reduce the material to a fine powder that could be reclaimed into the process.
After testing the nibbler style blades, the customer purchased a new 20" Prater Lump Breaker and a model G-5 Hammermill for their application. The equipment has successfully been in operation for several months now and is quickly reducing their backlog of off-spec material.
For additional information on Prater's custom and modified standard product solutions, please contact a product specialist at 887.247.5625 or visit https://www.praterindustries.com.