Posted on 7/9/20 9:21 AM
Lump breakers also referred to as lump crushers, are a type of equipment that performs particle reduction of material used in production applications by a variety of industries. The size and scope of lump breakers can vary depending on the scale and type of material that requires crushing or breaking apart. They can be installed inline within a process, configured for stand-alone operation or part of a conveyor-fed system.
In general, a typical lump breaker consists of a crushing chamber (housing), one or more rotors (e.g. rotating shafts outfitted with teeth or blades), and in certain models stationary breaker bars. The primary method of work is the impact force of the rotor against the product. As alternating rotor blades intermesh with each other or the stationary breaker bars (if equipped), the process of conditioning the product is completed. Designed with low RPM's and large operating clearances between alternating blades and breaker bars, lump breakers provide gentle conditioning and coarse size reduction of most materials with little to no dust generation. Many designs also include a sizing screen at their discharge, providing additional retention for tougher materials or those that require finer sizing.
Applications and Benefits
Crushers and lump breakers serve many industries. Benefits vary for each industry, but a lump breaker's primary application is to solve material processing challenges that occur as a result of transportation and shipping, overprocessing or prolonged storage as related to that industry. Raw materials such as minerals, chemicals, foods, pharmaceuticals, agricultural feeds, pet food, polymers, fertilizers, and other types of aggregates or bulk solids often arrive compacted with lumps and agglomerations that need to be reduced to a consistent size. For example, bagged granules or powders stacked on pallets can form into lumps or solid blocks. Other materials with hygroscopic properties, like sugar or salt, once exposed to humidity, will naturally agglomerate in bulk bags, bins or hoppers.
Using a lump breaker to condition bulk materials will improve flow properties in a way that benefits storage, mass flow, and conveying, whether it is a pneumatic conveyor, belt conveyor, screw conveyor, or another type of conveying system.
Lump crushers also aid in the preparation of material for further processing. The elimination of lumps results in a greater surface area to volume ratio, improving dryer efficiencies and providing more homogeneous blends.
Lump Breaker Types and Selection Factors to Consider
In general, standard single-shaft and dual-shaft crusher designs are available and each can be customized to meet application needs that will provide optimal performance. The internal components in contact with the material can be hard faced or heat-treated to combat wear or lined with non-stick coatings such as Teflon for sticky materials.
When selecting a crusher consider all the application parameters. These break down into product and process-related variables, all of which are relevant to selecting an appropriate model size, horsepower and features to effectively process the material.
When evaluating the product, discuss all the material characteristics of the product being processed. What is its density and flow rate to the crusher? What is the moisture, fat or oil content? Is it dry, wet or sticky? Is it sensitive to heat or friction? What is the size and percentage of lumps in the product? How hard are they? What is the end product specification requirement—coarse, granulated, or powder? Is the product abrasive?
In reviewing the process, a simple flow diagram can identify how the lump breaker will integrate and define the "big picture" of all process variables. Be sure to identify how the material will be fed to the lump breaker. Will it be flood fed from a bulk bag or hopper? Will a metering device be used? Just as important, how will the product discharge from the lump breaker? Will flow be impeded in some way? How can the pulverized material affect my downstream process? What are the process temperature, pressure and vapor/ humidity? These are particularly important if found to have a negative impact on the working properties of the material. Assess process variables for each season, particularly when the lump breaker is outdoors or in an unconditioned space. What works in winter may not work as well in summer. Plan for these variables in the design of both the lump breaker and the process.
---
Want to improve your processing efficiency?
---
Prater Lump Breakers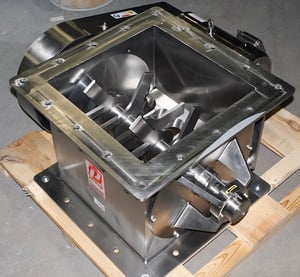 Prater Lump Breakers are designed for the most efficient, simple and economical means to reduce compacted material for production. Their unique design improves product flow while reducing agglomerated, lumpy materials into smaller, granulated products necessary for packaging and processing. Functional and economical, single rotor lump breakers feature a heavy-duty single-shaft rotor driven by a V-belt suitable for processing a wide range of diverse materials like fertilizers, chemicals, cement and ceramic powders used in heavy industry or salts, sugars, grains, and the like used in food products for people and animals.
Prater also manufactures a Quick Clean Lump Breaker with additional time-saving features. The unique design is equipped with a demountable rotor, tool-less fasteners and a glide rail system that provides effortless removal of the rotor from the machine housing for cleaning and maintenance.
In summary, lump breakers and lump crushers are robust machines used for conditioning a variety of materials that have been compacted or naturally agglomerated. Crushing is achieved by the interaction between specially shaped blades on opposing shafts, or between blades and stationary breaker bars, resulting in gentle conditioning of materials beneficial to conveying or further processing. With its many applications and benefits, lump breakers have proven vital to a wide variety of industries. It's not just a matter of selecting the "right" lump breaker, but rather a lump breaker design and features that best suit the application and material processed.