Posted on 7/28/20 12:16 PM
An air classifying mill is a type of industrial size reduction machine integral to bulk solid processing industries. The general design incorporates a vertical, two-stage, closed circuit grinding chamber combined with an interstage air classifier that's housed as one unit.
The air classifying mill reduces the size of the material through impact with a high speed grinding rotor. A screen frame is precisely fitted around the grinding rotor. It contains screens and serrated jaws that provide additional shear and impact to accelerated particles. An independently controlled, internal air classifier separates off-spec particles, recirculating them back into the grinding chamber for further size reduction. As a result, air classifying mills outperform single-pass impact r mills in their ability to handle difficult to grind products or in applications that require a narrower particle distribution.
Operational Process
Prater's air classifying mill works within an induced airflow provided by a vacuum conveying system. This air is vital to the transport of product thru the grinding process as well as acceleration and dispersion of particles for classification. During operation, material is processed in three stages: first stage grinding, classification/ recirculation, and second stage grinding.
During first stage grinding, material and air enter the primary side of the grinding chamber, where particles are impacted by the rotor and accelerated outward against screens and jaws. The screens and jaws help further the size reduction process by causing rapid deceleration, shear and rebound into the rotor's path. This process continues until particles are small enough to pass through the screen with a high degree of probability.
The next step is classification and recirculation. Once outside the grinding chamber, particles are rapidly fluidized by secondary air introduced tangentially near the bottom of the mill. As the particles accelerate toward the classifier wheel, their drag in the air stream is met with an opposing centrifugal force determined by the wheel's RPM. This centrifugal force classifies the particles based on size, where larger particles with more drag are rejected back into the grinding chamber while smaller ones with less drag exit the machine.
The final step in the process is second stage grinding. Rejected particles re-enter the secondary side of the grinding chamber, which is composed entirely of serrated grinding plates that provide more aggressive cutting of particles. Like with primary grinding, particles are impacted and accelerated by the rotor, then sheared and decelerated across the grinding plates. From here, air transports these particles back into the primary grinding chamber where they again exit thru the screen.
Benefits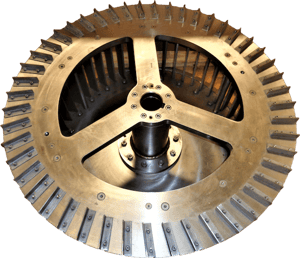 Some materials may be less friable and therefore more difficult to grind. In other instances, a narrower particle distribution may be required for down-stream processing. The prime benefits of air classifying mills is the ability to grind less friable materials or in meeting narrow particle distribution requirements. Unlike other designs, the air classifying mill can meet these requirements without extensive disassembly and reconfiguration. Precise adjustments are as simple as electronic speed control of the air classifier wheel.
Prater air classifying mills feature a convenient, all-in-one housing design with large access door that makes for easy cleaning, quick inspections and simple maintenance. Its horizontal shaft orientation and outboard mounted bearing assembly provides for a clean interior and simple means of disassembly as compared to vertical shaft designs. Operating in an air sweep, the mill runs cool with a lower temperature rise.
As with any grinding device or equipment, safety concerns are vital. To prevent any possibility of industrial accidents from occurring, Prater air classifying mills come equipped with an automatic door locking device that activates when the rotor is in operation. They also include a premium shaft grounding brush and grounding system to prevent static discharge in the grinding chamber. Customers also have the option of choosing a pre-engineered bearing condition monitoring system that can enhance their existing predictive maintenance practices.
---
Want to improve your processing efficiency?
---
Popular Industries
Air classifying mills are used widely in numerous industries. Food, pharmaceuticals, minerals/mining, and the chemical industries are just some of the industries that rely on air classifying mill machines for particle reduction applications. Whether for the fine grinding of food ingredients, active pharmaceutical agents, pet food coatings, minerals,, or dry chemical products, air classifying mills are essential for production. They can process products such as sugar, gluten, flour, soya protein, cornstarch, dextrose, pigments, gypsum, gelatin, freeze dried meat, limestone, whole grains, dry sorbent powders, talc, clays, dyes, and toners among many others.
In summary, many types of size-reduction equipment have been developed to handle specific bulk material operations. For the most part, the material's properties and application parameters determine which equipment will be used for particle reduction. Prater's air classifying mills combine an impact mill with an internal air classifier to create an exceptionally versatile particle reduction device. The machine offers a combination of two-stage closed circuit grinding with internal air classification housed in a single unit to meet the most challenging production requirements. For that reason, air classifying mills are the workhorses in dry material handling operations and for the production of bulk solids requiring tailored particle properties.