Posted on 9/25/20 12:15 PM
Hammermills are the workhorses of the process industry and central to the success of any operation. Integral to that success is a preventive maintenance program. A properly designed preventative maintenance program will consist of regularly scheduled inspections and routine maintenance of equipment combined with a stocking program of essential hammermill parts and components, all which are specific to the equipment's design, duty cycle, operating environment and severity of the product being processed.
To stay ahead of the competition, today's facility managers must constantly drive initiatives that improve plant utilization and eliminate waste. Preventative maintenance is a critical part of these initiatives, especially when it comes to critical process equipment such as hammermills. When properly implemented, a preventative maintenance program will reduce downtime, increase profitability and contribute to a safer workplace.
Hammermills are the Powerhouse for Processing Material
A hammermill operates on the basic principle of impact milling, which is, the process of using applied force to weaken the natural defects in a particle such that it yields several new, smaller particles. Turning grains of wheat to flour or coffee beans into fine aromatic grounds are two common examples of milling.
A hammermill consists of a high speed rotor with hammers affixed at their pivot point to support pins equally spaced around its circumference. The rotor is suspended between bearings at each end, allowing the hammers to swing in close tolerance to one or more screens held within a frame. Size reduction is created by the repeated blows of the hammers, along with the collision of particles accelerated against one another and the surfaces of the screen.
Prater Industries is a global leader in the manufacture of hammer mills and related industrial process equipment. Prater designs and manufactures all their machinery, equipment, and parts to be long-lasting. However, Prater also recommends a preventative maintenance schedule to ensure their equipment's reliable performance and service.
Hammermill Repair and Replacement Parts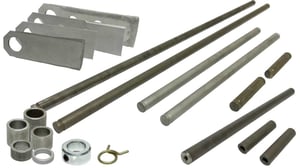 Repair and replacement of parts are not uncommon in hammermill models with extended service life. Hammermills consist of many parts—hammers, screens, screen cradles, pins, spacers, locking collars—all of which are subjected to wear during operation. For legacy Hammermill parts, Prater can provide OEM components as replacements for the older worn parts to return the mill to a like-new condition.
Implementing a program helps facilities operate continuously without disruption
A successful preventive maintenance program is one that identifies a problem before it becomes one. Establishing regularly scheduled routine inspections and maintenance will identify any worn, frayed, or broken parts; worn parts not only damage the hammermill but reduce its output and slow production.
The prime benefit of routine inspections then is in providing advanced warning of a potential problem. Prater mills are easy to access, maintain, clean, and service. Having an inventory of standard wear parts on hand can save time and money when it comes time for a replacement.
Why maintain an inventory of critical spare parts?
Maintaining an inventory of replacement parts will minimize excessive downtime and keep essential equipment operating without interruption. From a practical standpoint, standard replacement parts may be out of stock at the factory. Even with a lead time for ordering non-stocked parts, it can take time to ship and receive. At the very least, having spare parts on hand is critical to maintaining a continuous process.
Because hammermills are essential to process industries, their optimal performance is vital to a successful operation. A preventive maintenance program is instrumental to decreasing downtime, reducing the likelihood of major repairs, and increasing the equipment's service life.